Please, read the
RULES
first!
1. Sign-ups close at 5 PM, EST, June 10.
2. You have to submit your stories in
this post
before that date!
3. The theme of the first challenge will be announced on May 21st.
4. The stories will be posted on June 11th by the mod. And you will have 10 days to vote.
5. The results will be posted the next day after the voting ends (June 21).
6. You may submit as many stories as you want.
7. Promotion of this community will give your story one extra vote in the future. You can only promote twice before each challenge though. And I'd really appreciate if you promote in your personal journals/communities you maintain only, so we don't have problems with other mods.
Just post the link with your promotion here, and I'll add you one vote.
You can use this banner: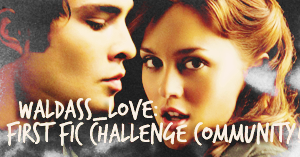 Good luck to everyone!
I'm looking forward to reading a lot of good Waldass fiction soon.
ps: Any suggestions are welcomed! Also, if you wanna be a co-mod, you can write me to sharrrk (@) gmail.com